Here are the first parts of what I hope to be a long line of billet aluminum FSJ parts.
Door lock knobs - Prices include shipping
- Set of 2 with no logo = $15
- Set of 2 with logo = $19
- Set of 4 with no logo = $25
- Set of 4 with logo = $33
If you would like a custom logo on your set I have the ability to do that as well. PM if you would like a set. I accept both Paypal or check. I stand behind my work, if you have a problem with the door locks or any other part I make in the future, just let me know and I either will help you solve the problem or give you a full refund.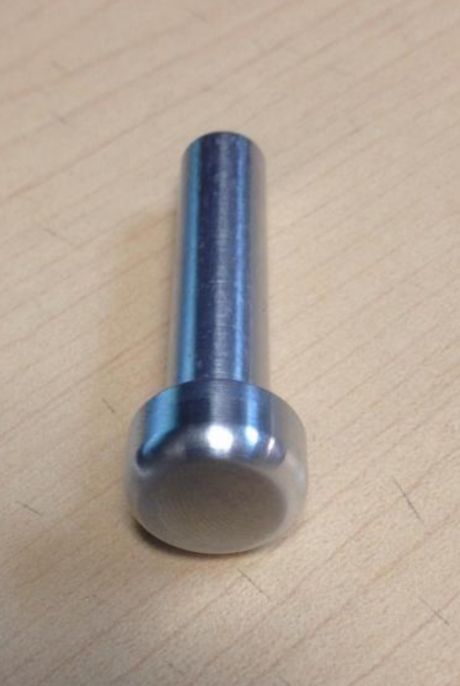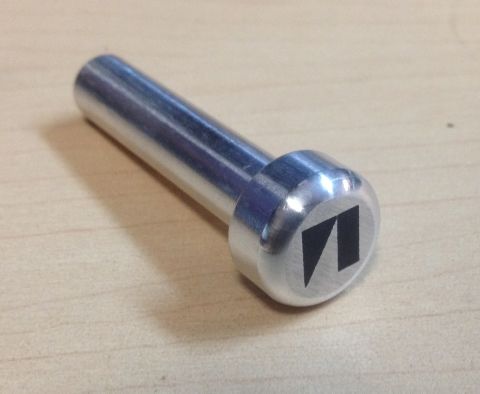 Here we are, the much anticipated billet sun visor cups. They are sold as a pair, cost is $98 which includes shipping anywhere in the continental USA. I wanted to keep the price lower, but there is a lot of machine time in these. The cups have a tumbled finished. With a little work they could be polished.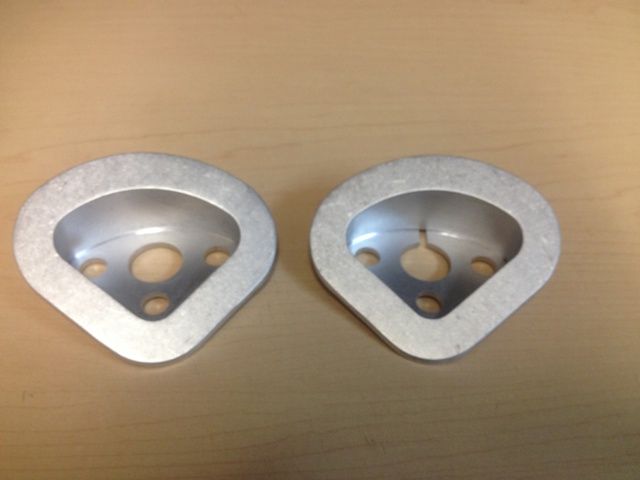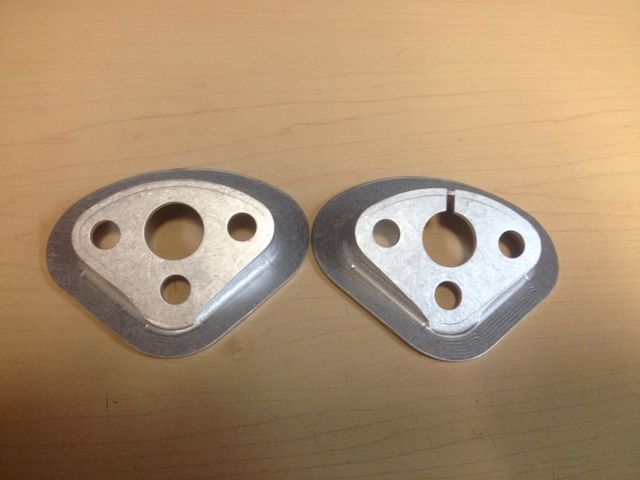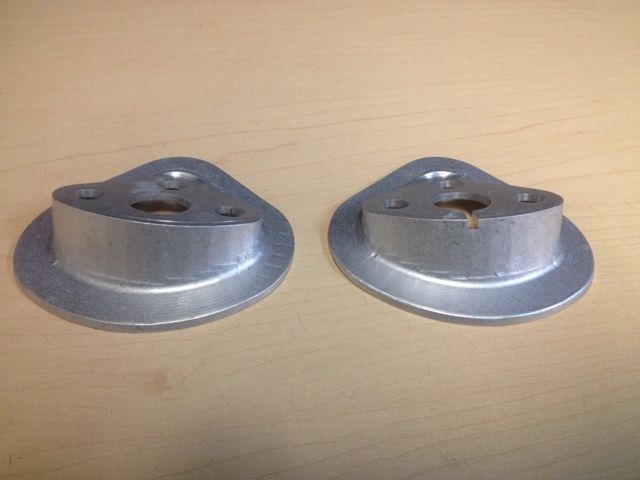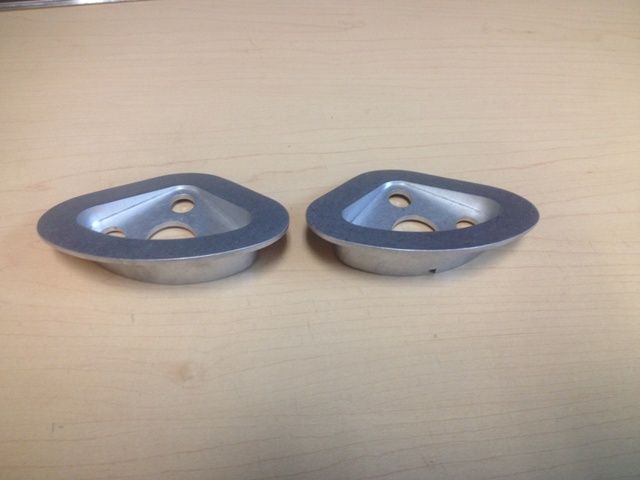 Here are the side mirrors. Set comes with 2 bases and 2 gaskets. You will need to buy your own mirrors. I buy mine through RockAuto for about $10 to $20 per side depending on which ones you get. You will need to buy mirrors for a mid 90s Dodge truck. You will have to take them apart and use the mirrors section only. They are easy to take apart and assemble. I am sure a trip to the junkyard would also snag you a pair pretty cheap. They are designed to screw into the same holes your tiny factory mirrors used. You will need to reuse the same mounting screws.
It has been brought to my attention that some of the older FSJ's have a different bolt spacing on the mirrors. My bolt spacing is 2-15/16". Please double check your hole spacing before ordering.
Price is $90 for a set which includes shipping to anywhere in continental USA. Combine orders and I can save you on shipping.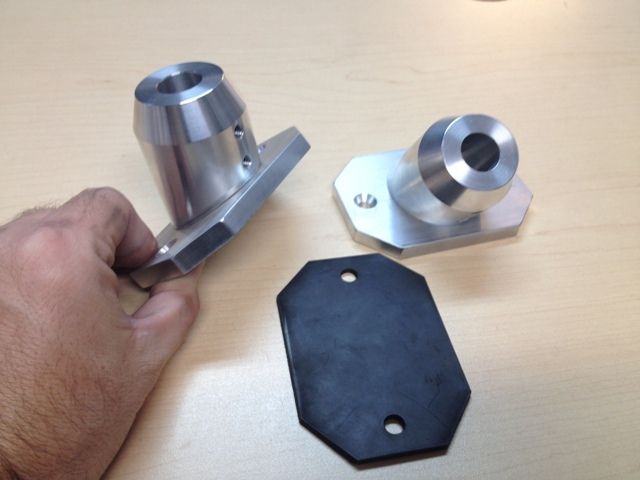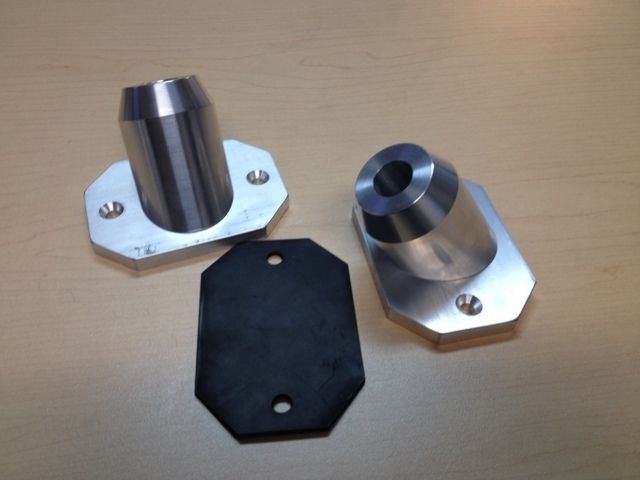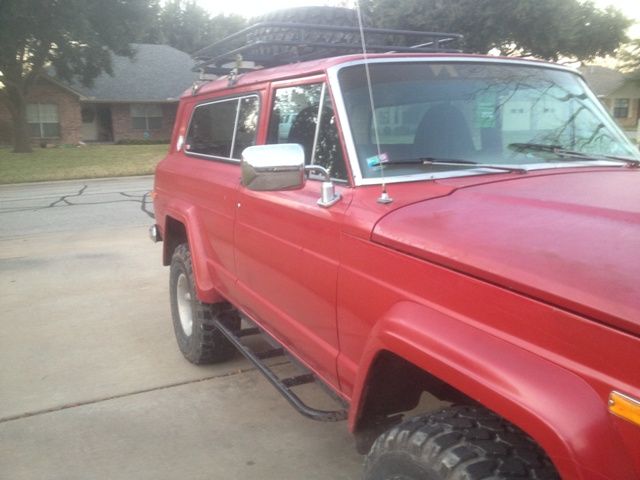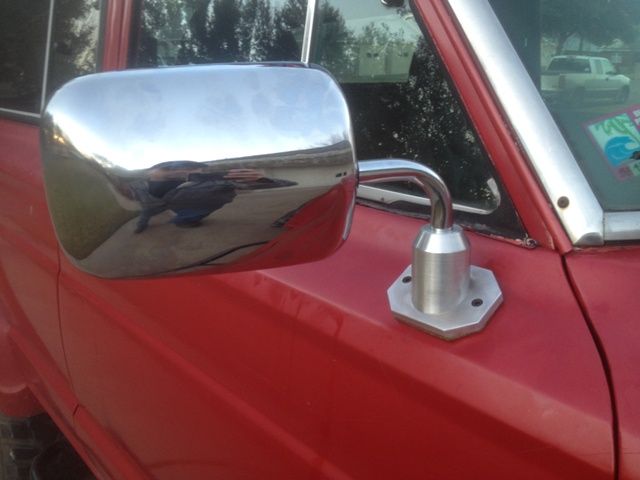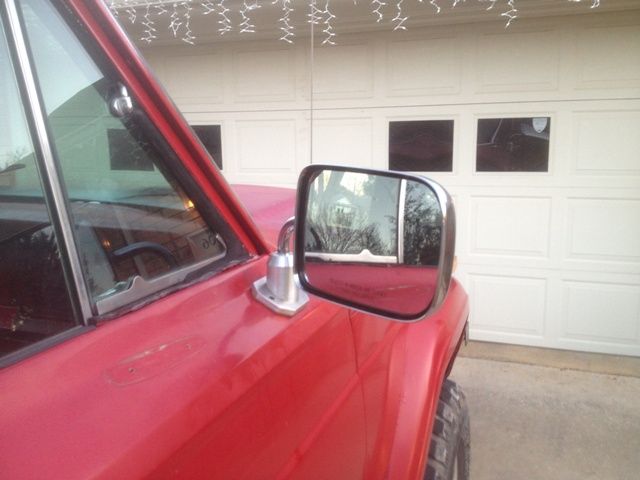 There have been some request for FJ mirror mounts. Here is an adapter that I made that mounts the FJ mirror to my base. As you can see in the picture there is a through hole drilled in the adapter so you can run the wires for the lights and for the power mirrors. Price is $135 for the FJ mirror adapters and a set of basses. As with my standard mirror mounts, you will have to provide your own mirrors.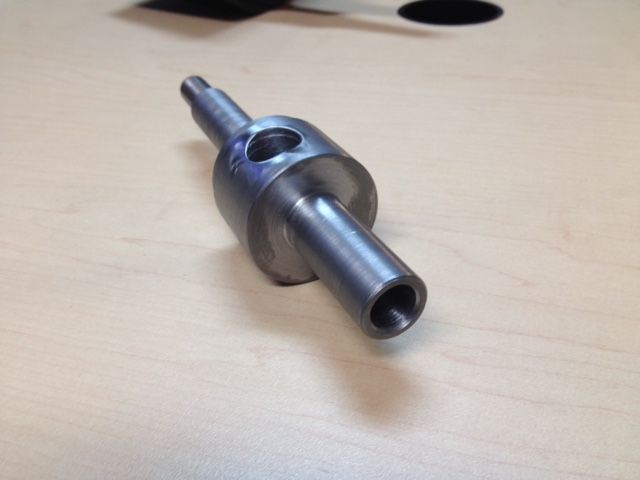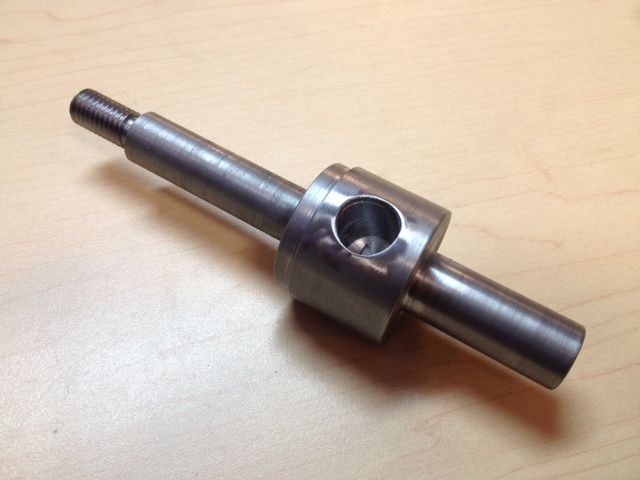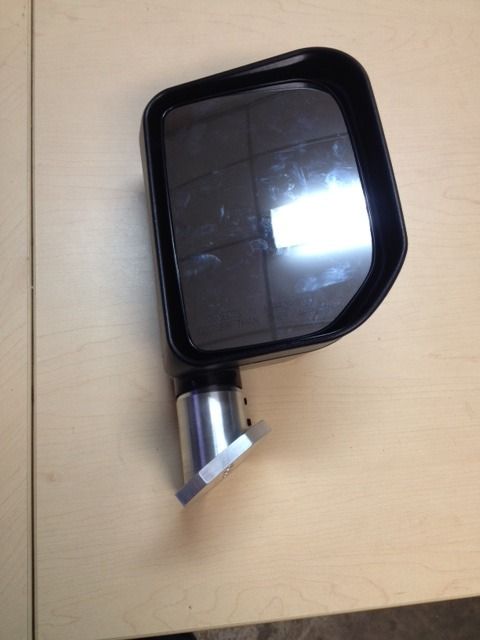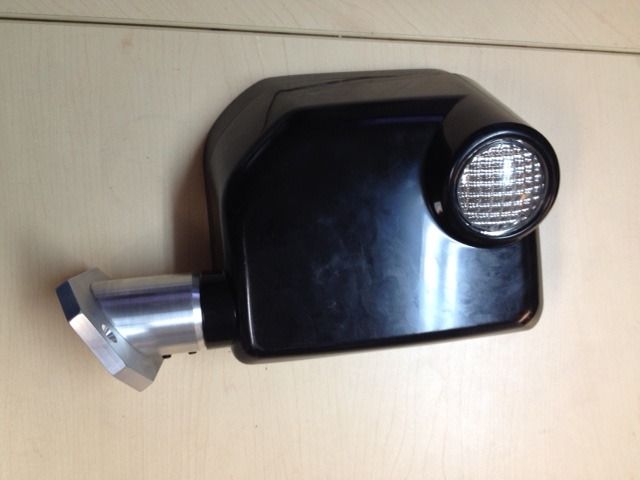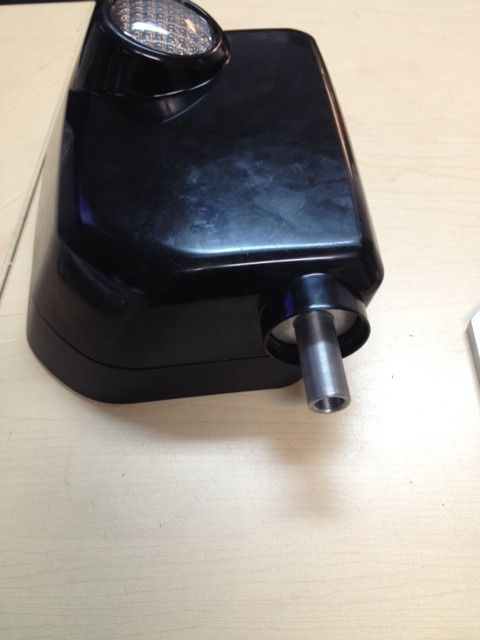 Billet Glove Box Pulls: I am selling them in 2 styles. First, is the original style, which looks like the original one obviously. Cost is $29 which includes shipping anywhere in the US. Second option does not have the outside milled off. This gives you a place to hang something if you want. Price is $23 for it. PM me if you are interested. I made 50 of them to start with. Not sure how fast they will go.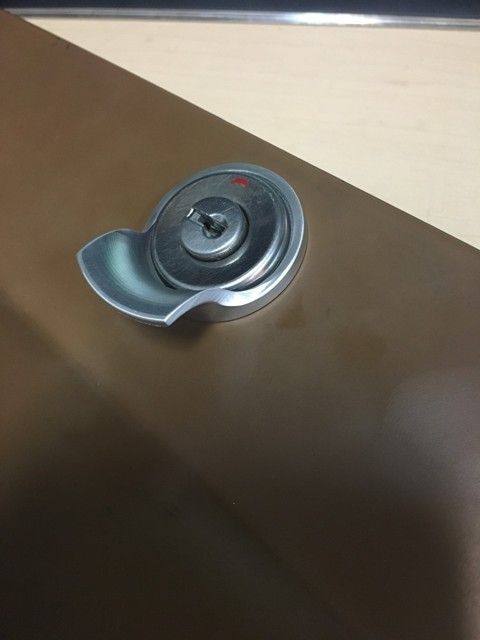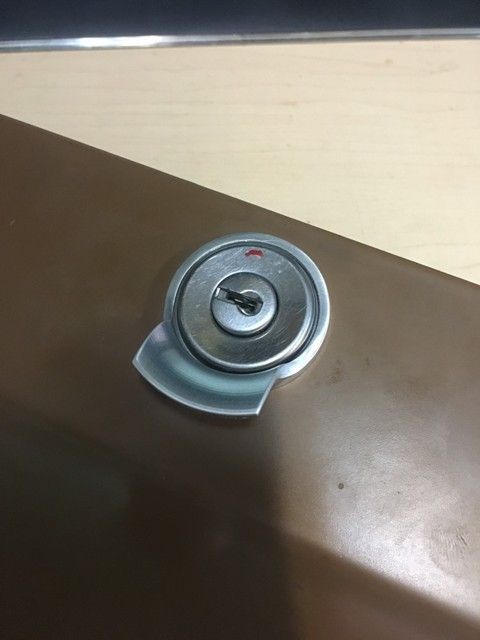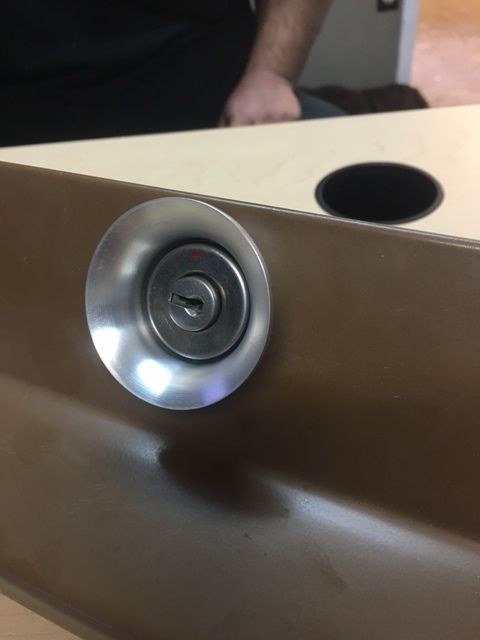 Now Available, Billet FSJ Door Handle Pulls. The factory ones are made of plastic and crack really easy. Here they are made of 6061 Aluminum. Come with a tumbled finish. Price for a set of 4 is $70. Price for a set of 8 is $127. As always, shipping is included.