This will be my "build" or make things better and reliable.
The start: '74 Cherokee S. 401 auto. I am the 3rd owner. Everything is stock except Hella H4 lights and a Carter Comp carburetor.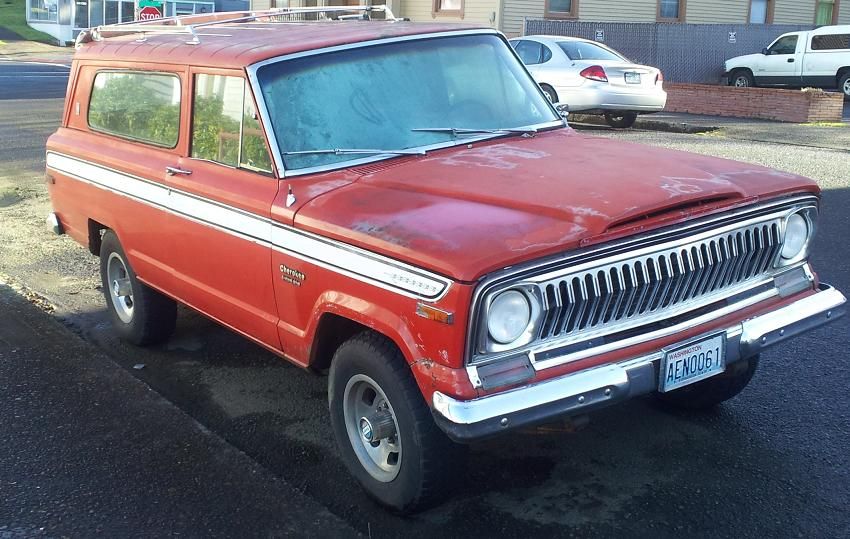 Have not driven it much since I bought it other then the hour drive home when I got it and the 10 minute drive to the DMV. Want to fix some things up first.
Things I have done to it already.
1) Replaced the wipers, which could have been original. There were terrible and of course it rained the night I drove it home.
2) Call me crazy but I decided to put hose clamps on the fuel line where the fuel filter is. Yeah it had none.
3) Replace vacuum plugs on carburetor that were split.
Things I have bought but still need to replace or secure to Jeep ( Live in a apartment with on street parking only. Just snowed last night)
1) Cap, Rotor, Wires, plugs, Air fliter, PCV
Done
2) Fire extinguisher. ( Hopefully it will never be needed but is there if I do.)
Done
Things I just bought at BJ's Offroad
1) Door locks
Done
2) Side marker lens to replace the broken passenger front
Done
3) 21 circuit fuse box.
4) LED tail lights.
Done
5)few misc. items
Things I just ordered from Serehill, here on the forum.
1) His headlight wiring upgrade with fog lights. ( Don't have the fog lights yet. This will make it so much easier when I do add them. )
Done
2)
Tailgate window wiring harness.
Things I want/ need to do.
1) Alternator upgrade. I see there a few different write ups on the subject.
Have Alternator, brackets. Waiting to install
2) Change to a volt meter.
Done
3) Fix/ replace exhaust. Has duals with cherry bombs on it now. One pipe is rotted.
Done
4) Needs passenger floor repaired. May have to do a temporary fix now since I no longer have a welder or a place to weld.
Temporarily done
5) Rear tailgate window does not work. I have no key for it either ( Why I am replacing door locks.) Not sure if switch on dash, wiring, or motor is bad yet. How hard is it to convert to manual? Can it be manual and electric together? I have not even looked into anything on this yet.
Have Serehill wiring harness
6) Other minor things that pop up.
7) Outside mirrors. All I have is the drivers side, and it is small.
Done
Things I would do if money was no object.
1) Complete body rebuild. Like everyone else I hate rust.
2) 5 speed manual. I prefer manual transmissions.
3) Fuel injection on my 401.
This won't be an exciting build thread. Just my way of documenting what I do.
Edit 8-28-14
Removed electric brake.
Removed most of the A/C stuff.
Removed the points distributor and replaced with HEI.
Replaced all vacuum lines to heater switch controls and T/C.
Working wipers