1974 Wagoneer
360/Quadratrac
Factory AC
Original paperwork
The good:
-Its complete.
-One owner
- I have all the original paperwork from the dealership, as well as a bunch of records.
- Trans rebuilt before parked.
- I think the heads were rebuilt before parked.
-Its original aside from a repaint (owner owned a body shop)
- It runs, drives, stops, shifts, goes into/out of low range
- Carb is rebuilt and fires right up. idles suuuuuuper smooth. Smoother than the one i own and drive.
- Brand new brakes (soft lines, rotors, calipers, pads, drums, shoes, hardware, wheel cylinders, master cylinder)
-Frame is 100% solid. Body mounts are 100% solid. Only minor body rust.
- Most gauges work (temp and oil pressure).
- I replaced the 74 gas tank with a perfectly clean tank from my 73 that is exactly the same. I can include the original tank. Its solid, but full of varnish.
- Amazingly, no leaks lol.
- Rear window works....slowly.
The bad:
- It sat for 15 years in the desert. You do the math.
- Interior is complete, but seats are ruined by the sun.
- Headliner is present, and is not damaged, but it got wet and is warped.
- Minor body rust. the typical spots behind the rear wheel wells, and the floor in front of the rear wheel wells (about a 6"x8" section) is crunchy, but not rotted through. I have details pics of the corners, rockers, frame, etc showing its solid.
- A few dents and dings. typical trailer hitch ding in the tailgate, otherwise one 2 small fender dings and some dings in the trim. I have a spare tailgate and a spare "wagoneer" emblem for the back.
- Fuel gauge doesn't work.
-Engine smokes when warmed up. No smoke on start up. no bad noises, but it smokes when its warmed up. I haven't "exercised" the engine really, so could just be from sitting 15 years.
- Blinkers seem finicky but I haven't even gone into that yet. All other lights work, inside and out, brakes, headlights, etc.
The rundown:
This jeep came to me from the original family that owned it. Bought here in Reno by a lady's father, then registered in her name when he passed. She cried when I hauled it away, but was happy that it was going to a "good home" and either be restored, or at least be used to make other jeeps keep living. Her 90 year old mother was there too, and they told stories of driving it to mexico, etc. It was a fairly emotional event for them haha. When she moved to her current home in 2001, they hooked up the horse trailer, filled it with gas, and noticed a big gas leak. It was the filler neck hose. They then trailered it to the new property....and parked it. Prior to that it had been regularly maintained, and had had some fairly recent heavy work done (trans, top end). I have old receipts for all of that.
After I got it, I sold it to a gentleman who was going to restore it into a good quality driver for smebody to enjoy ...which I felt was a suitable goal. It sat in his driveway for a year after he got it fired up and did a few very small things, never registering it, never leaving his driveway, until his life changed and it came back to me because I feel a moral responsibility to make sure something good happens to it. I drug it back home and have been getting it drivable.
The jeep is complete. The jeep runs, drives, and stops. surprisingly smooth. I have had it up to about 35mph. It shifts through all gears, no noise from the q-trac. I haven't gone any faster because the tires are super dry rotted from sitting flat. I have a set of maybe 20% 30" tires that I am putting on it shortly so that it will at least be safe to drive around in. Also, it presently is not insured or registered so it doesn't leave my street. All the brakes have been replaced with new parts from napa.
Its a "field find". The interior isn't perfect, the door panels are great, but the headliner is warped and the seats are blown out from the sun. The body has some small dings and dents, but I have a spare tailgate to go with it. As mentioned, minor rust in the rear wheel well corners. Otherwise, no rust, no frame rust or damage, everything underneath is solid except a few small sots in the floor in front of the rear wheels.
I do not have the time nor resources to get this thing to a point where I would want it. That being said I don't think it would take hardly any time or resources to get it driving around the trails and highways, as it pretty much already does.
Here's the important stuff from my perspective:
I'm asking $2500 for this jeep, but we can always talk about that based on the below. I'm a reasonable man.
I need this jeep to go to somebody who recognizes that its a 1 owner "survivor." I also need it to go to somebody that recognizes where it came from, where it went, what that intention was, and that it came back to me, and that I want the same thing. This jeep needs to stay on the roads. I am not going to sell it to you for parts for your other jeep. I'm not going to sell it to you to to part out.
I want to sell this jeep to somebody that will keep it alive. I'm not saying it has to be restored or to be kept 100% original. But seriously, its important to me that this jeep gets to continue life as a jeep, being used, being enjoyed, making memories, whether that be as a cool old survivor, a restored perfect classic, a resto mod, a lifted 4 wheeler, a drag racer, etc.
Lots more pics upon request. I have a whole photobucket album full.
IMG_1059
by
Marn
, on Flickr
Untitled
by
Marn
, on Flickr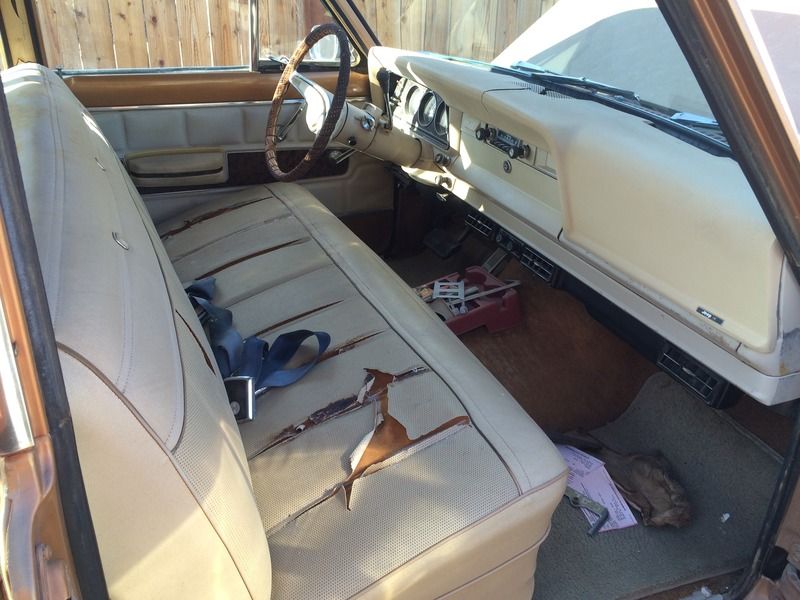 Here's the photobucket album: