Hey guys!
Posted this on the other forum, thought I'd post here as well. Long story short, I really wanted a tach, and also really wanted to move my wideband air/fuel readout from my innovate LM-2 I had in the glovebox to a dash readout. Wideband AFR has been awesome for keeping the Holley in tune, and also to re-jet when driving into altitude.
BUT, I really hated what my options looked like - all of them looked too high tech or were too busy and generally took away from the design esthetic I love about these old trucks.
So, in looking at the Dakota Digital VHX line of gauges, I saw that everything I wanted was available.
BIM Module to read from my AFR? Check!
Tach? Check!
Keep the factory turn signals? Check!
Keep the factory bezel? Check!
BUT, I really didn't like the design. Also that with a redline of 4,500 I'd never get close to the 8,000 on the stock tach, and I'd NEVER see above 85 MPH. So I called them & asked if I could supply Adobe Illustrator files with what I wanted it to look like. CHECK!!!
I worked with Scott through the process, was super awesome. They had to custom program the sweeps to be in line with my shorter design. Really like that he was able to hang with me and with me being super picky, and he wanted to make sure I was totally psyched with the end product. Told him that if other people wanted my design it's OK with me.
Anyway, hacked apart the old harness, installed their temp sender and oil pressure sender, wired the BIM into my Innovate LM-2 for the AFR readout, wired in the brain and installed. Works with the stock fuel sender, and installation wasn't bad at all.
As a bonus, I can actually see the needles at night and during the day since you can set daytime/nighttime illumination for needles and backlight.
AND, this is probably the best part ever - my voltmeter has the actual lightning bolt from the AC/DC logo as the icon!
Also took the moment to do a proper ammeter bypass so I'd be able to supply the voltmeter (post '86 need not worry).
Incidentally, if anyone needs an '84 gauge cluster with 163,000 on the clock and super perfect for free, let me know!
Here's what we started with: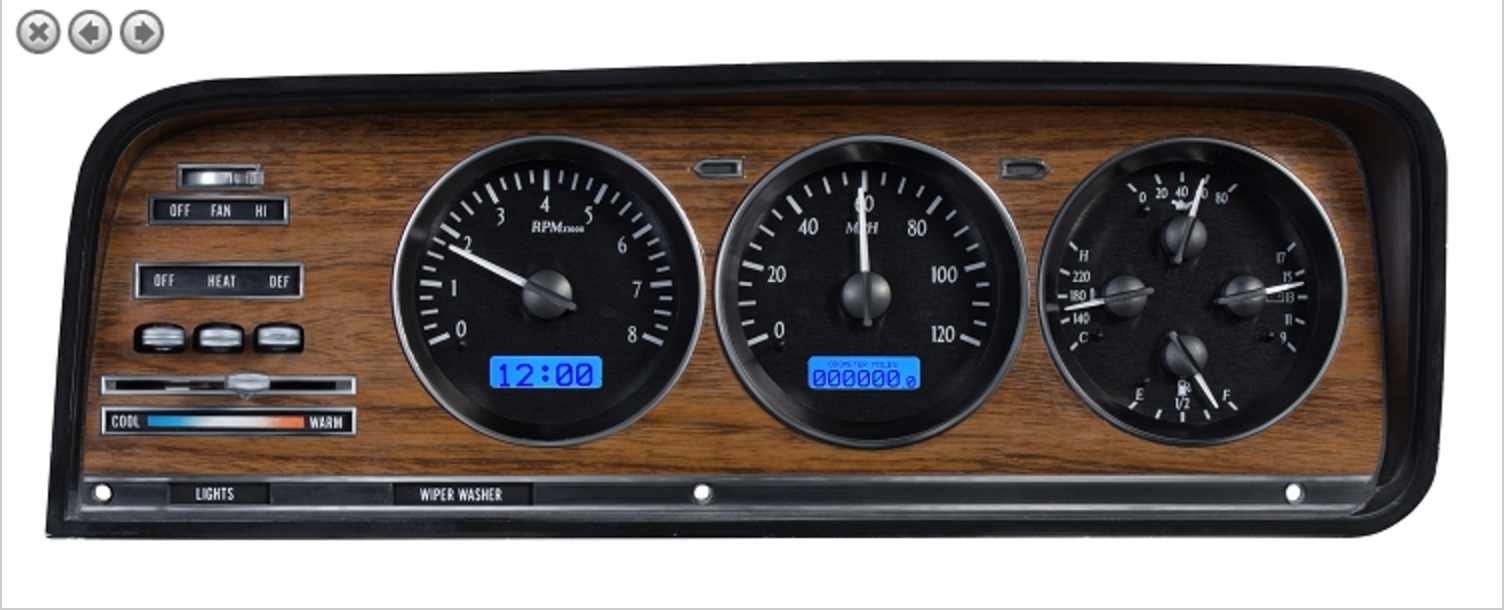 Here's an early design photo:
A photo of it uninstalled: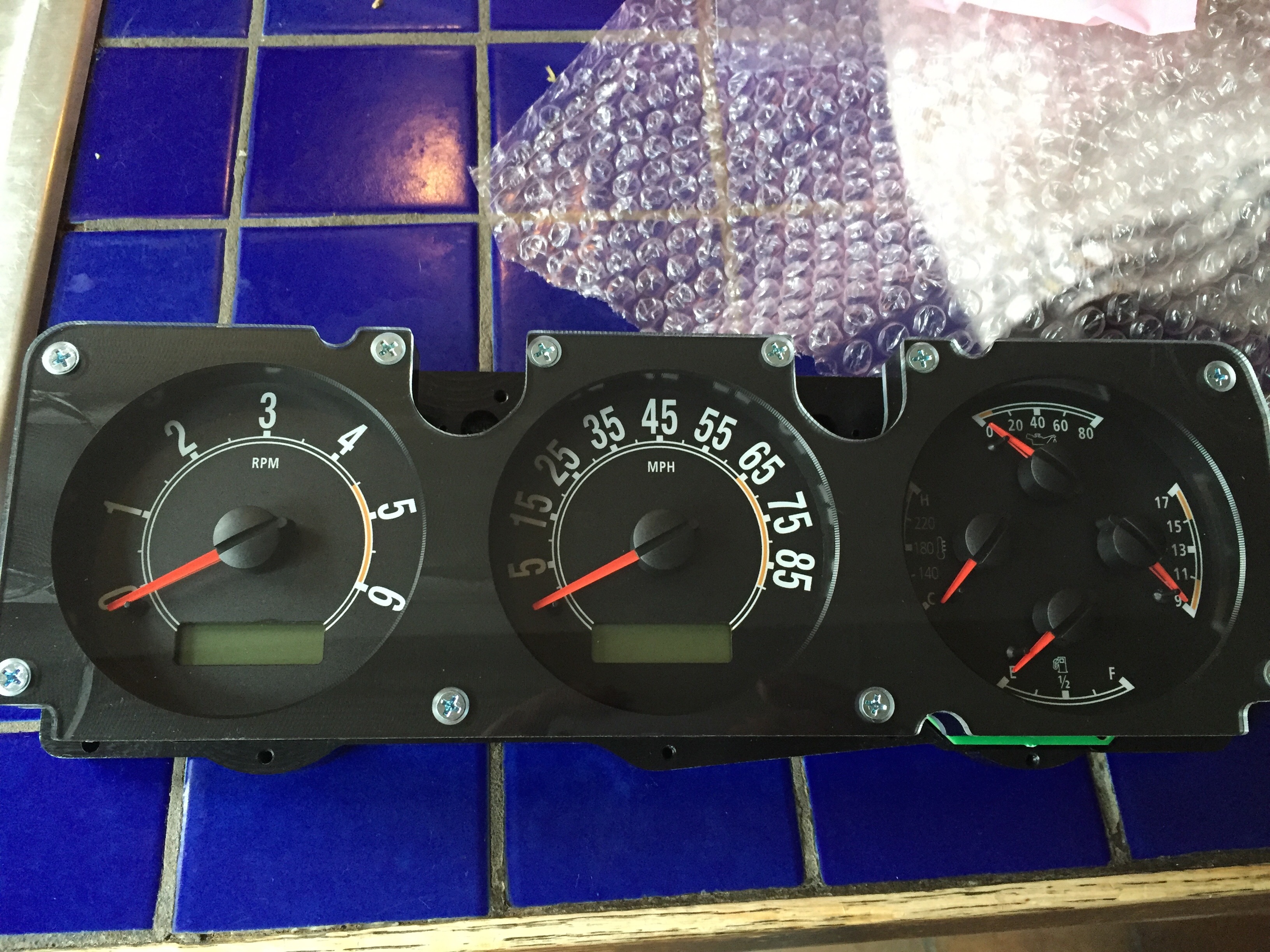 And a photo of the installation: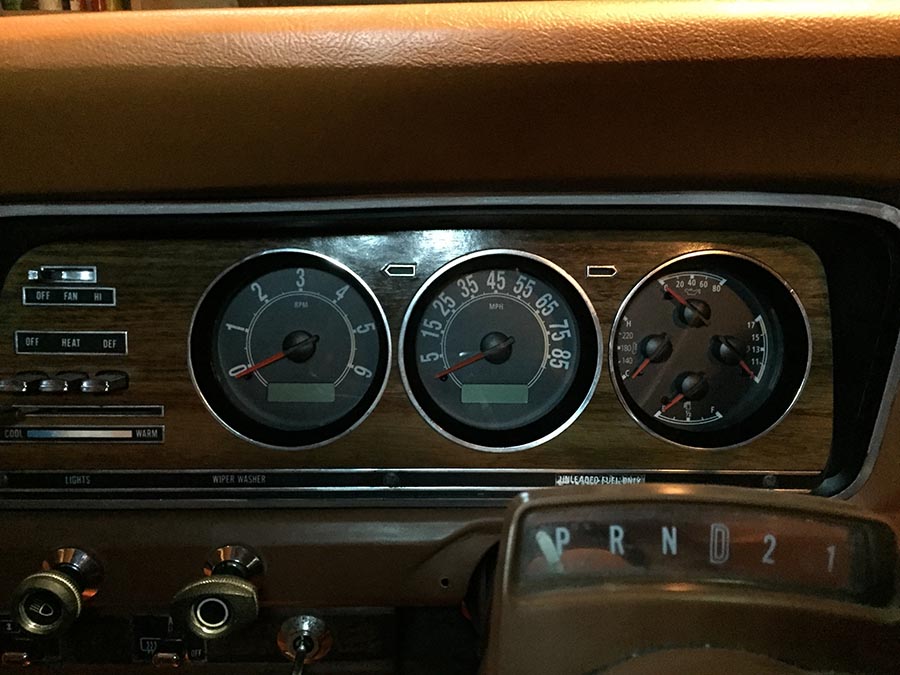 Here's a video of the illumination/startup:
https://www.dropbox.com/s/4ozmqwnmz5frw0p/IMG_2461.MOV
In general, my favorite thing here is that I have AFR on the dash all the time. It's been helping me decide shooter size, accelerator cam profile, powervalve size, jet sizing. Really think that dudes in the '70's who read plugs are savants and need to be venerated, can't even imagine doing that!
Also, being able to get 1/4 mile times / speed and service alerts and so much other stuff. I'm a big sucker for older tech like carburetors and mechanical fuel pumps and the FSJ / things I understand in general, but this cluster has increased my enjoyment of my vehicle 10x.
Rockon!